Make a One-Time Donation
Make a donation to the general fund at Paws Humane.
Pawtomatic Giving
Show your love for the animals all year-round by donating monthly.
Memorial or Honorary Gifts
Do you know someone worth celebrating? At Paws Humane, you can celebrate someone special, while supporting a great cause!
Spay it Forward
Did you know you can help Paws Humane end the fight against pet overpopulation in your community? It's as easy as giving to our Spay it Forward program!
Top Tails Society
Paws Humane has a NEW giving society of individuals and families who have shown an extraordinary commitment to helping Paws fulfill our mission.
Planned Giving
The decision to include Paws Humane in your will, trust or other financial plans will mean your legacy of love will continue for years to come.
Sponsorships
Create goodwill with customers and help the animals. Supporting our sponsorship program will give you a wonderful feeling, knowing you are helping animals in need while we help bring more awareness to you, as well.
Vehicle Donation
Are you looking to donate your old car, truck, SUV or other vehicle? We now are accepting these donations through our partner, CARS. 
Fundraise for Paws
Celebrate the important events, people and pets in your life. There are many creative ways to give.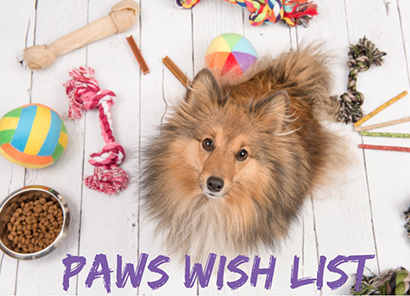 Paws Wish List
Wish list items are always needed and can be donated any time.
Thank you to our partners!